Step 2: How to trace other blogs
UPDATE: 2012-12-24: We have made things easier for you
1. After you have registered yourself, Click on Log-in (upper right of screen).
2. To fill your dashboard with data, please click on Add Blog
Please register the 10 blogs you wish to trace. Do not forget to enter your own blog as well
By having done the above, we can now start to collect data on your set of blogs that you want to compare yourself against.
PS. If you click on control  you then see the list of blogs that we trace for you. If you want to claim your own blog as the rightful owner (allows us to show you more stats and KPIs about it)
Step 1: Sign up  (learn how it works) actual sign-up is here
Step 2: Add blogs you want tracked  (you are here)
CyTRAP BlogRank – FACTSHEET
CyTRAP BlogRank – FAQ 
Below is material that was previously published.
---
Our My.ComMetrics application is a software-as-a-service (SaaS) application, which means you do not need to install anything on your end. We host and operate the application over the Internet for your use, so you can access our software virtually as and when you need it to track your blog's performance.
It's a blog-eat-blog world; start using the same benchmarking tool several prominent blogging websites do to generate targeted traffic that helps customer relationship management.
Thanks for signing up and getting ready to benchmark your blog against the competition.
A short instructional video on the tracking your competitors' blog(s) is available here: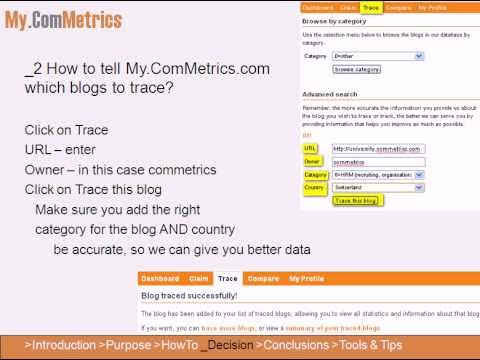 To trace a blog that you want to compare your own blog's performance against, you need to make some selections. Here we explain how it can be done, nice and easy.

The screenshot to the right shows you how you can start adding other blogs to be tracked by ComMetrics.com First you may want to select a category (see to the right) and this will, in turn, result in a list of blogs been shown to you.
Please use the category that describes your blog best. Context is important, meaning it makes most sense to compare apples with apples only.

Please provide the following information
URL (with http://): provide a valid URL link for the blog – not just the webpage
Owner: First Name, Middle Initial and Last Name if a person such as Urs E. Gattiker – otherwise, Dell Inc., or Coca-Cola Inc., Smart Blogger Pty Ltd, WebVirtual LLC etc.
Category: choose a category that is most appropriate, check the blog's description and the last 10 listings to get a feel – yes you might post things addressing business, private live and mountain hiking but here choose the one that you post about the most,
Country: self-explanatory, see domain used, such as co.uk or look under Contact or the blogger's LinkedIn account
Again, please provide accurate information so we can search our database and see if we either have this already included or if we need to go right now to start collecting information for you.
When you click on Trace this blog you should get this screen:

So you can now select the blogs you want to trace in order to measure and compare your blog's performance. The first step for improving your effectiveness in using this social media channel.
And just to make sure you get the next blog post first in your inbox, enter your email address below; you'll be glad you did:
View the slides with the links to guide you through the registration process step-by-step, and to visit resources mentioned in the video above: