Best-in-class


The top of the class, sometimes referred to as the first, highest or best group in a system of classification such as the 2009 FT ComMetrics Blog Index, is where most people want to be. Best-in-class blogs are those that successfully combine long-term strategic objective(s), which blend community and commerce.


Things are not as easy as they seem, however. For instance, Germany's InterCity Express 3 may not be the fastest train in the world (highest clocked speed is 406,9 kph), but users enjoy a fast, safe and very comfortable ride.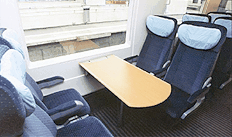 In fact, comfort and seating on these trains is unsurpassed compared to other products, such as Thalys or TGV. But naturally it is also a matter of resources available to build and run such a train including maintenance.
The FT ComMetrics Blog Index represents a similar challenge, namely how can the blog project be justified against other PR and IT activities coming budget time.  As importantly, what value does top management see coming from blogging when looking beyond the theoretical. In the screenshot below (right) it is obvious that Google's blog has the largest ComMetrics Footprint while Microsoft is a distant third. In summer 2008, the Securities and Exchange Commission ruled that US companies are permitted to use their websites to distribute market-sensitive information.
In November, General Electric (GE) became one of the first to use a specific domain for a blog targeted at investors, shareholders and analysts (see www.gereports.com/). The site is sometimes updated several times during the workday and is the only source that provides unique information about cost-cutting efforts (for example at GE Capital). The site also features responses to articles that appear in traditional media.
This is one of many GE blogs but within a short time it has become the one with the highest ComMetrics Footprint.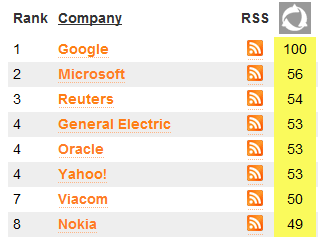 Oracle's most successful blog is the one written by Jonathan Schwartz, CEO of Sun. A company that was just taken over by Oracle. Mr Schwartz is probably the best known blogging CEO and his footprint is simply impressive. We were somewhat surprised to find Yahoo!'s blog not higher up with the other search, web-portal and web-based and other software vendors such as Google and Microsoft. Nevertheless, the blog is ranked very high.
In summary, obviously each one of these blogs (go to 2009 FT ComMetrics Blog Index and click on each name to visit the blog ranked) does provide content that is being linked to by bloggers and website from around the globe. As importantly, all these blogs are in English and while we track blogs in other languages those still rank lower (e.g., see Skype that does to right). Nevertheless the eight top ranked blogs are from media, technology, web 2.0 and/or mobile communication companies. No manufacturing, pharmaceutical or energy conglomerate can be found in this group although GE is the odd one in.

The chart to the left shows you those ranked at the end of the first third of blogs that were included in those 75 blogs that were included.  All these blogs have managed to provide current and potential readers with straight forward URLs that include the corporate domain. They have avoided making the most obvious mistakes (for examples of these mistakes see the good, the bad and the ugly).
The only one doing things a bit differing is SAP whereby the executive blogs require registration first before one is being given access.  If one is not registered the browser window one gets looks as the one shown below.


All companies mentioned above offer readers new posts via an RSS feed and via e-mail (i.e. serve the content the way people prefer to get it).
By the way
Other pertinent material as download or online can be found here: Financial Times – Is blogging good value for the C-suite? 2-pages. Find out more about the  FT ComMetrics Blog Index using these links: Leaders by metric, What is top class, Methodology, Good and best practice, Lessons learned, Trends to watch, Your own index report, Free download: PDF report.
---

Relevant blog metrics for diary, personal and business blogs
. Please
subscribe now
so you can
claim your personal and/or corporate blog
AND
trace those that you want to compare yourself to
. Check out the
results from the
2009 FT ComMetrics Blog Index
.
---