Winners by metric

Without insight and interpretation, numbers tell you little. Worse, sometimes your numerous sources provide conflicting usage numbers. The key is to look at long-term changes, not numbers for a specific time period. Trend is the keyword.
No single metric is a good indicator. Instead, you have to evaluate the numbers along with indices from multiple dimensions, as done by the ComMetrics Footprint. The rankings below can be rearranged according to indicator by clicking on the column's title when visiting FTindex.ComMetrics.com.
To see the complete rankings for each metric, download the summarized data as a PDF report (free registration required).
ComMetrics Footprint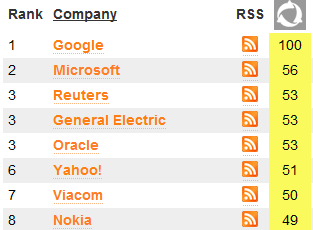 As the screen-shot to the right indicates, Google ranks the highest by far. This may be of little surprise, considering that it is the number one search engine in most countries. Microsoft heads a group containing Reuters, General Electric and Oracle while a third group is led by Yahoo!.
These companies all have numerous blogs. The one ranked as part of the FTCBI has the biggest ComMetrics Footprint. What is interesting is that General Electric's blog focuses on shareholder news and investor relations, while Oracle's blog is written by their CEO Jonathan Schwartz.
Google PageRank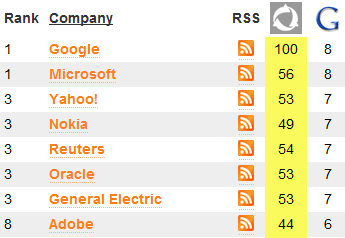 The left-hand column contains Google PageRank scores, the highest being 8 (Google and Microsoft). Several companies follow, with position 8 occupied by Adobe, with a score of 6.
It is also important to note that all of the previously mentioned blogs have been up and running for around two years or more, and have therefore had sufficient time to achieve such high rankings. Nevertheless, these examples also demonstrate how difficult it is for a corporate blog to achieve a ranking of 7 or higher.
Technorati Authority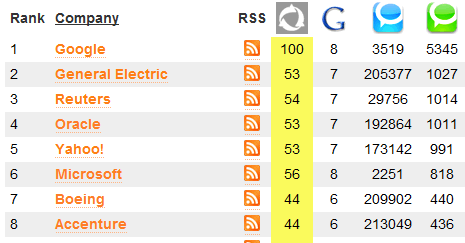 Google's blog has over 5,300 links that are less than 180 days old and the difference compared to General Electric is substantial. Still, the top-ranked blogs in the FTCBI create enough interest to trigger almost 1,000 links from other blogs.
Things drop again by nearly half from around position 6, which is held by Microsoft with over 800 links from other blogs, and continue with Boeing and Accenture, that both register over 400 links from other blogs.
Technorati Ranking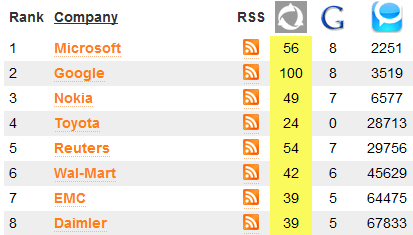 As this ranking shows, Microsoft leads Google here. In fact, until the latter half of April 2009, Technorati Ranking scored Google as the 11th most highly ranked blog. It tumbled at the beginning of May 2009 to 3519, demonstrating how suddenly things can change for reasons that may not always be apparent.
Nevertheless, with more than 400,000 subscribers the Google blog will likely continue to occupy a relatively high Technorati Ranking since many bloggers read it to keep abreast of developments and new tools.
Yahoo! InLinks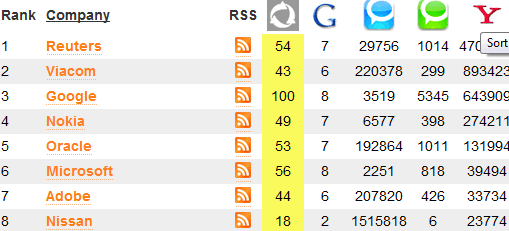 According to Yahoo! InLinks, Reuters has registered close to 5 million backlinks from blogs and websites, almost six to seven times as many as Viacom's blog about MTV, 'American Original' comics and other trademarked products.
While Google and Viacom are about the same, the numbers for each rank thereafter drops by about half. Starting with Microsoft in position 6 (which has about a third of Oracle's backlinks), things drop considerably.
Google Blog Search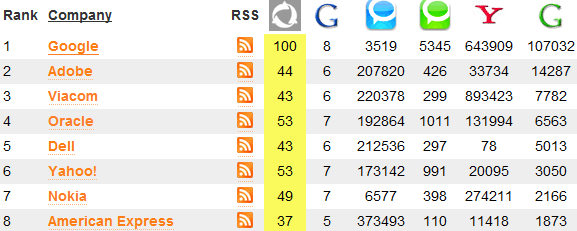 Google is far ahead of everybody else on Google Blog Search. Adobe has about one seventh of Google's links according to this indicator. Again, Viacom has about half the number of Google Blog Search links compared to Adobe.
Things stabilise after Adobe, however, as they drop to several thousands and then quickly drop down to less than a couple of thousand with American Express.
Bottom line
While things move, the statistics of the top 8 ranked blogs indicate that movements within this group and across indicators are generally limited. While the top three may sometimes shift within those ranks and depending on the indicator used (e.g., in Yahoo! InLinks, Google is only third), they stay within this group. The same can basically be said for sites through rank 8. With some exceptions such as a Google Page Rank of 3, Nokia lingers toward the bottom of the top 8 ranked blogs with most of the indicators.
Nevertheless, all blogs included in the top 8 or even the top 10 are high performers and outshine most other blogs in the FT ComMetrics Blog Index.
Find out more about the FT ComMetrics Blog Index using these links: Leaders by metric, What is top class, Methodology, Good and best practice, Lessons learned, Trends to watch, Your own index report, Free download: PDF report.
---

Relevant blog metrics for diary, personal and business blogs
. Please
subscribe now
so you can
claim your personal and/or corporate blog
AND
trace those that you want to compare yourself to
.
Check the
results
from the
2009 FT ComMetrics Blog Index
.
---